europ
Here are some of our favorite tips and thoughts about these European countries:
Austria
Salzburg
Hotel tips:
Hotel-Gasthof Langwies, tel. 062453426 (family run hotel, wonderful feather beds and restaurant, beautiful setting just south of Salzburg in Vigaun)

Paul showing off his muscles
in Freistadt, Austria

Vicki and Tiffany at Schonbrunn Palace,
Vienna, Austria
Belgium
Brugge
Restaurant tips:
't Heerenhuys, Vlamingstraat,53, tel 050-346178 (lovely place for lunch in downtown, white table cloths, better than average food, medium prices)
Hotel tips:
Koen & Annemie Dieltiens, Sint-Walburgastraat,14, tel.050-334294, (bed and breakfast in a home 200 m. from the Marketplatz, comfortable, inexpensive)
Czech Republic
Karlovy Vary
Insider tips: No matter what you order, dumplings come with every meal.
Hotel tips:
Hotel Ibiza, Zamecky vrch, 3 , tel.017-23315, (well located downtown hotel, no frills, inexpensive)
Cesky Krumlov:
Insider tips: Rent a canoe and float down the Vltava River. Beautiful pine trees, secluded commune with nature. Inexpensive.
Hotel tips:
Anna Stindlova, Parkan, 107, tel.0337-4396, (bed and breakfast in a downtown home with patio overlooking the river, comfortable, inexpensive)

| | |
| --- | --- |
| | |
| | Karlovy Vary |
France
Bayonne
Restaurant tips:
Restaurant Irintzina, 9, rue Marengo, tel 59590251 (Basque specialites, casual, local spot, not touristy, the food is great and inexpensive)

| | |
| --- | --- |
| | |
| Vicki and Tiffany at Versailles | |
| | |
| Paul and Tiffany in Paris | |
Germany
Bad Schmiedeberg
Insider tips: Take time to check out the city park and gardens.
Restaurant tips:
Gasthof Zum Pferdestall, Hauptstrasse, 45, tel 034-925-70682 (wonderful place in the middle of a field in the country; you'll be the only tourist; locals abound and the food is great and inexpensive)
Hotel tips:
Pension Vonnoe, Bahnhofstrasse,3, tel.034-925-70317 (bed and breakfast in the downtown home of Helga Vonnoe, comfortable, inexpensive)

| | |
| --- | --- |
| | |
| | |
| | |
| | |
Italy
Monselice (near Venice)

Hotel tips:
La Selce, tel.049-782580 (walled villa in a small town; helpful, friendly owners; moderately priced)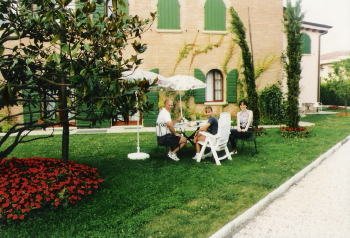 La Selce