About Spain
We have traveled in Spain more than any other European country and continue to enjoy spending time there. A few things for the first time traveler to remember are:

1. The main meal is lunch. Restaurants open around 1:00, but most people show up at 2:00. Get there at 1:00 to get a good table. Order the menu del dia (a fixed price meal which usually includes choices of a first course, second course, dessert, bread and wine) for a reasonable price. Menus with prices are posted outside the door of the restaurant. Tips are usually included in the price. Request agua del grifo (tap water) or una jarra de agua ( a pitcher of water) instead of paying for bottled water at restaurants, if you would also like water during your meal. Tap water is perfectly safe to drink all over Europe.
2. Rooms in private homes are not as popular in Spain as in the rest of Europe, but rural lodging web sites help find inexpensive and homey accommodations. Toprural.com is one of our favorite sites.
3. Spaniards dress up more than Americans. Shorts are not appropriate in the cities. Loud colors and designs scream "tourist".
4. Be careful with your wallets and purses. Pickpockets are plentiful. You will be more relaxed and secure using a fanny pack for your large bills, credit cards, passport, driver's license. Only carry a small amount of money in your pocket for fast cash. Hold on to your things in the metro!
5. Wear comfortable shoes. You'll do lots of walking. Black leather shoes and jackets are very popular.
6. Carry an umbrella in your jacket pocket, if you are going in the spring.
7. Carry a small pack of tissues for use in public restrooms. Many are not stocked with toilet paper. If you need to use the restroom, the best place to go is into a bar or café. Buy a cup of coffee, etc. and use their facilities. (Or you can walk into a fine hotel and pass straight through the lobby. Make sure you are dressed like you belong there and then act like you do. Restrooms are almost always located in a rear hall near the elevators.)
8. To avoid lines at museums and other attractions, either be the first in line or come late in the day, one or two hours before the closing time.
9. Parking is expensive in the big cities. In small towns there are colored stripes on the curbs to show that that area is pay parking only. If you park there, look for a machine on that block to pay. Pay the amount stated on the machine and return the printed stub to your car window dash. Parking garages are tricky unless you know what to do. Take your ticket upon entering. When you are ready to leave, put the ticket in the machine near the stair entrance before you go to your car. Pay the amount requested. As you leave the garage, you will need to show proof of payment.
10. Each region has its own cuisine, geography, festivals, architecture, traditions and even language differences. You will be amazed at the changes you see after traveling for only 2 hours.

Here are some of our favorite Spanish cities:
Avila
Insider tips:
Inside the walls are all of the main sites. You can easily walk to each within 10 minutes. Try the yemas de Santa Teresa candy (you'll either love them or hate them).
Restaurant tips:
Las Cancelas (across from the Cathedral, a former Marques' home whose courtyard has been turned into a restaurant, good food, lovely atmosphere, good price on menu del dia)

Vicki and Stephanie on
the Avila walls

Paul and Vicki at Las Cancelas
Barcelona
Insider tips:
Be sure to walk the entire length of Las Ramblas. Each block specializes in a different theme (cafes, flowers, animals and birds, etc.) Best chance to see traditional Sardana dances performed is in the Plaza in front of the Gothic Cathedral.
Bilbao
Insider tips:
The old town is interesting; nice clothes shopping in the pedestrian only zone; Guggenheim museum is beautiful from the outside (not so great inside). Possible day trip to Santander (to see the beaches).
Hotel tips:
Barcelo Hotel Nervion tel. 944-454-700 (nice business hotel; great location across the bridge from the Guggenheim Museum; expensive)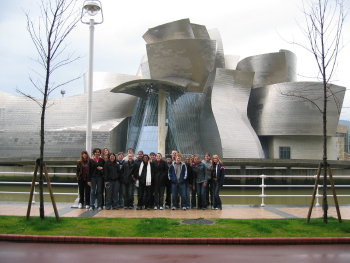 Parkway students at
the Guggenheim in Bilbao
Burgos
Insider tip:
The festival of Burgos at the end of June is great. Watch for lots of brides, since that is the traditional weddding date for couples.

| | |
| --- | --- |
| | |
| | Dad and Mom in Burgos |
El Camino de Santiago
Our dream is to walk the Camino de Santiago in the spring of 2009. We'll keep you posted as we make our plans.

The journey's end -
Cathedral of Santiago

Galicia-the Region
We love the region of Galicia for its friendly people, lush green hills, beautiful beaches and great food.
Finesterre, Galicia
(end of the earth)

Gran Canaria, Canary Islands
Insider tips:
It's really worthwhile to rent a car to tour the island (CICAR – Canary Islands Cars). We left early in the morning from La Palma; went south on the coastal road to the Playa del Ingles beach (wide, white, huge sand dunes); took a Camel Safari in Fataga (Manolo's Camel Safari tel. 928-798686, which included lunch and, of course, about a 20 minute camel ride through the palm trees and canyons); and continued our drive completely around the island before the end of the day.
Hotel tips:
Hotel Parque tel. 928-368856 (located right on the park in the center of town; easy to walk to the shopping areas and port)
Madrid
Insider tips:
Prado Museum (no backpacks allowed inside; check the Web to see which day is free; fabulous collection of Velazquez, Goya and El Greco paintings – be sure to take a small mirror with you, turn around and look at Las Meninas in the mirror to see the 3D effect of the Velazquez masterpiece)
Royal Palace (be sure to get there as soon as it opens to avoid the crowds and get an English speaking guide)
Plaza Mayor (often has free entertainment in the evening)
Retiro Park (rent a canoe for 4 people for 5 Euros – free entertainment on Saturdays and Sundays near the lake)
Reina Sofia Modern Art Museum (Picasso's "Guernika" is an emotional experience).
Restaurant tips:
El Museo de Jamon (a chain that serves typical Spanish cuisine at reasonable prices – several locations in Madrid, but our favorite is on Calle Mayor between the Puerta del Sol and the Plaza Mayor - great place to go for the mid-day meal- arrive at 1:00 to be sure to get a table – go through the café/bar area on the street level and go up the stairs in the rear for a lovely dining room with white table cloths and chandeliers – order the menu del dia which includes a first course, entree, dessert, bread and wine for about $10.00 per person)
San Gines (open most of the day, but a fun place to go in the evening after 9:00 for fresh churros – a fried donut-like stick – and incredibly rich and thick hot chocolate to dip them in)
Tapas near Plaza Santa Ana (one small bar after another lines the plaza and the surrounding streets, don't feel compelled to eat a lot at any one place, look in the window to see the offerings, standing at the bar is cheaper than sitting at a table for the same order)
Tres Encinas tel. 915-212207 (on the Calle de Preciados, near Callao; expensive, top quality seafood restaurant, great if someone else is paying)
Casa Gallega Plaza San Miguel, 8, tel. 5473055 (good Galician cuisine, nice atmosphere, very good food, moderate prices)
Hotel tips:
Hostal Marlasca (on the Calle del la Cruz right behind the Puerta del Sol, excellent location, clean, no frills, cheap)
Madrid Holiday Inn Express (several locations on the outer belt expressway of Madrid; only if you have a car, great if you are going to the airport anyway; modern; good breakfast included; good value)

The famous Casa Botin restaurant

Enjoying tapas in Madrid
Rioja Valley and the Wineries

Insider tips:
La Guardia is a wonderful non-touristy town to explore. Make reservations at least two days ahead of time if you want to visit one of the bodegas (wineries). Most charge for the tour. The tourism office in La Guardia should be able to help you. Our favorite is the Marques de Caceres bodega in Cenicero tel. 941 454000 (no charge – ask for Anne Gilbo, a lovely woman who is fluent in English, Spanish and French).
Hotel tips:
Castillo El Collado in La Guardia tel. 945-621200 (a beautiful castle, impeccably restored and furnished by the gracious owner and host, Javier; expensive, but a real once in a lifetime indulgence). Lunch and dinners are served in an elegant dining room; fabulous food.)
Palacio de Samaniego in Samaniego tel. 945-609151 (a lovingly restored palace that offers reasonable prices)

| | |
| --- | --- |
| | |
| | Marques de Caceres winery |
| | |
| | Paul at the Palacio de Samaniego in La Rioja |
Ronda
Insider tips:
Great town for antique hunters. The drive to Jaen from Ronda is off the beaten track. Watch out for sheep on the road.

Arriadh - rural lodging

Goats on the road near Ronda

Views from our room near Ronda
San Sebastian
Insider tips:
San Sebastian has a wonderful old town section that has the best (or at least the greatest number in the smallest area) pinchos bars in Spain. Pinchos are tapas in northern Spain. Lots of fun to wander and sample. Also a nice little custom leather belt shop on the corner in the old town. The guy will cut the leather belt you choose to your size and put on the buckle while you wait. (About 5 minutes, $15.00) In nice weather, a walk along the beach promenade is wonderful.

| | |
| --- | --- |
| | |
| | Port on the northern coast |
| | |
| Rural lodging in San Sebastian | |
Santillana del Mar & Santander

Insider tips:
Make sure to see the Altamira Caves reproduction when it opens to avoid the crowds. Walk the streets of the village in the late afternoon and evening.
Hotel tips:
Posada Santa Juliana in Santillana del Mar tel. 942-840106 (18th century building; perfect location in the town center; rooms over a shop; quaint, fairy tale feeling; fun, if you like something unusual; inexpensive)

| | |
| --- | --- |
| | |
| Rural lodging in Santillana | |
| | |
| Santillana del Mar wedding | Vicki with parents in Santander |
Segovia
Insider tips:
The town is best done on foot. Begin at the aqueducts and walk straight to the Alcazar. Shops close during the afternoon, so do your sight seeing of the aqueducts, parks and Casa de Picos then. Roast suckling pig is the town specialty.
Many people include side trips to the Escorial and/or the Valle del los Caidos as part of the day's itinerary. Try to be at the Escorial when it opens, request an English tour. Next go to the Valle. Take the cable car up and down to save time, if you're going to go to Segovia on the same day. Try to arrive about 1:30. Eat at Meson Candido next to the Aqueducts.
Alcazar (a real climb to go up the tower, but the view is awesome)
Restaurant tips:
Meson Candido (right at the base of the Aqueducts; famous for the roast suckling pig; request a table by the window on the second floor so you can look at the aqueducts while you eat; pricey, but a once in a life-time experience)
La Taurina tel. 46-09-02 (located on the Plaza Mayor; good prices, nice atmosphere, good food)
La Oficina (located one block from the Plaza Mayor; more expensive than La Taurina, less than Meson Candido, really nice food and atmosphere)
| | |
| --- | --- |
| | |
| Regional dish - roast suckling pig | |
| | |
| Alcazar tower- What a climb! | |
Sevilla
Insider tips:
Sevilla is at its best during the Semana Santa processsions. If you can only stay one or two days, go on Good Friday or Saturday. Be sure to be there over night. Sevilla is known for its fried fish and seafood.
Restaurant tips:
Pescaderia Arenal (on Calle Arenal, two blocks from the Cathedral, one block from the Maestranza Bullring; great place for a carry-out fish and seafood dinner during the processions or any other time of the year; opens after 5PM; the Molina family have been in business for generations; ask for Maria Jesus or Ana)
Hotel tips:
Hostal Atenas tel. 954-218047 (next to the Casa Pilatos; clean, no frills, good value)

Toledo
Insider tips:
Toledo is best before 10:00 AM and after 5:00 PM when the tour busses leave. Partridge and hare are town specialties.
Cathedral of Toledo (there is a charge to enter the Cathedral except to worship during a Mass – buy the tickets in a shop across from the north Cathedral entrance)
Church of Santo Tome tel. 92-525-60-98 (houses the El Greco masterpiece "The Burial of Count Orgaz" – get there early to avoid the long lines)
Pottery buying (probably the best place in Spain to buy Talavera pottery, large variety – we have been to the town of Talavera and feel that although the prices were cheaper in Talavera, the quality was better in Toledo)
Damascene work (largest selection of plates, jewelry, swords, etc. in Spain)
Restaurant tips:
Restaurante Bisagra (near the Bisagra gate- huge variety on the menu del dia- go through the street level bar and down the stairs to a lovely Moorish courtyard themed restaurant with fountain, lots of locals eat here)
Hostal del Cardenal 925-220862(in a historical building with its own entrance through the city wall - near the Bisagra gate- lovely setting, gardens, elegant dining areas, business lunches – don't miss the ovens and kitchen on the street level; more expensive than Restaurante Bisagra, but not a budget buster)
Hotel tips:
Hostal La Campana tel. 925-221659 (great location, located right on the main shopping drag one block from the Church of Santo Tome; family owned; good price)

| | |
| --- | --- |
| | |
| | Vicki in the Holy Week procession |
| | |
| Dad and Mom relaxing in Toledo | Easter Choirs in Toledo |
Vitoria
Insider tips:
Vitoria is a nice town off the beaten tourist path. Typical Basque town, beautiful parks, jai alai courts, medieval town center. The festival of the Virgen Blanca at the beginning of August is definitely worth seeing!
Restaurant tips:
Restaurante Bilibio Errekatxiki, 3 tel. 945-288595 (locals eat here for a great value and good food)
Hotel tips:
Hotel Ciudad de Vitoria, Portal de Castilla, 8, tel. 945-141100 (modern, clean, great location by the Parque Florida, check internet to get special prices)

Our good friends from Vitoria